In 1995, Hurricane Marilyn devastated communications in the Virgin Islands and Puerto Rico. "We went down there and practically every phone line was down. Our only reliable means of communication for the first seven to 10 days was Inmarsat satellite technology. We used the Inmarsat A and M phones for voice and fax. We also used the Inmarsat C satellite phone for data transmission and packet switching, mostly for disaster welfare inquiry [letting people know their relatives were okay]. We received questions from the outside and were able to communicate two-way," says Bob Bavis, director of administration for the American Red Cross.
According to Gene Glazar, Orbcomm's executive director of sales in the United States, "20 percent of the world lives in the low latitudes, areas which experience more disaster. By comparison, 80 percent of the world lives in the upper equatorial."
The Orbcomm system uses low Earth orbit (LEO) satellites to provide coverage via subscriber communicators, handheld devices for personal messaging, as well as fixed and mobile units for remote monitoring and tracking applications.
Regardless of location, emergency workers are patching together the best qualities of different technologies to provide coverage in troubled areas. The nature of satellite technology — its mobility, ubiquity and flexibility — easily lends itself to humanitarian efforts.
The American Red Cross, headquartered in Washington, has an official policy about lining up communications in emergency situations.
"Our policy is that when we go to a disaster area, we try to use the established telephony system, if it's not damaged, as our primary means of communications," says Bavis.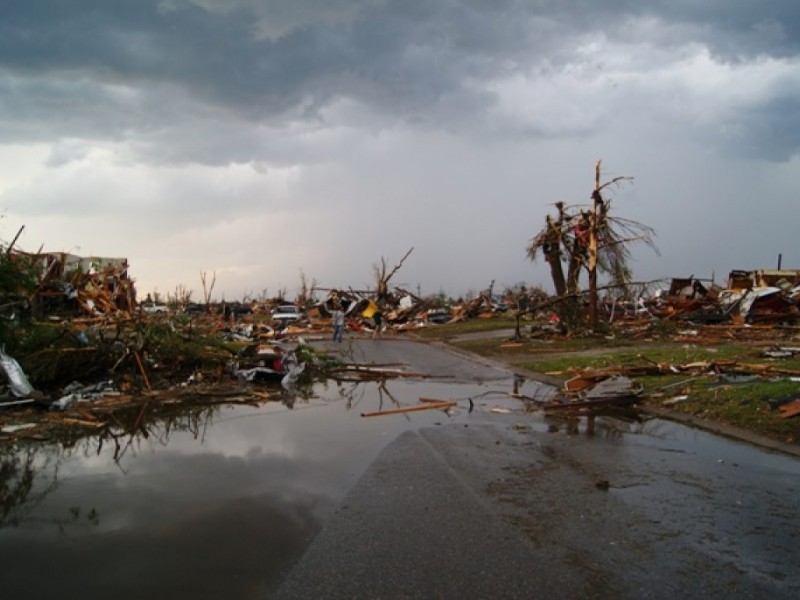 American Red Cross patches together a wide range of technologies, plain phones to two-way radios to satellite phones, and utilizes different frequencies to get the necessary coverage. "Sometimes we have to use two or more technologies to get coverage in an area. For example, last year when Hurricane Floyd affected all of eastern North Carolina, we basically used phones, pagers, satellite phones, cell phones, two-way radios, you name it. The damage was so widespread that nothing covered the whole region expect satellite phones and they're expensive. Since we have a limited number of satellite phones, we can't give everyone one to use," recounts Bavis.
Currently, the American Red Cross owns Inmarsat and American Mobile satellite phones. They also owned Iridium phones until Iridium went bankrupt. Since the American Red Cross is eligible for U.S. government services administration (GSA) pricing, notes Bavis, they were able to purchase the satellite phones at the lowest possible price
"With satellite technology, we're fairly confident that wherever we go, the phone is going to work. This gives us the confidence that when we go out to a disaster relief scene, we'll be able to communicate and help the people affected by the disaster," says Bavis.
In emergency situations, the American Red Cross goes on the assumption that they will have to provide all the communications themselves.
"We use the equipment we have here at national headquarters or the equipment stored in a Fed-Ex warehouse in Memphis. We either take it with us or ship it to the disaster relief areas so we can provide our own communications by ourselves. However, if a local cellular phone company, for example, is willing to donate phones and free air time, we gratefully accept it," says Bavis.
Search and rescue teams
Satellite phones are an obvious choice for situations demanding mobile technology, such as disaster relief or search and rescue. Andrew Radlow, Globalstar USA's director of marketing, notes the advantages of his company's mobile satellite technology.
"A lot of other satellite technologies are store and forward, not real-time. Our voice quality is also very good, which is especially important when dealing with people who are panicking." Not surprisingly, Radlow finds that qualitatively, the Globalstar phone "is better than most cellular systems. Quantitatively, we provide 9.6 kilobits per second (kbps) CDMA just like traditional cellular, except our cell sites are in the sky. On average, we're communicating on four satellites at one time to avoid dropped calls and maintain call quality."
Satellite services provide backup to existing cellular networks. "Even in densely populated areas like Southern California, traditionally, cellular [operator] claims are highly exaggerated. There are huge territories that are uncovered," says Radlow. Satellites fill in these gaps.
For example, sheriff departments in Los Angeles, Orange and Sacramento counties have used Globalstar phones to help in search and rescue cases. Radlow cites one Southern California example. On April 15, a kidnapper abducted a child. Cell phones didn't work in the area, and radio communications were difficult, according to Michael Corona, the lead sheriff in the Los Angeles area. The security officer on this case was an hour and a half away from the nearest communications and yet, with the Globalstar phone, was able to call out bloodhounds to respond to new evidence that was unearthed. The satellite phone helped rescue workers contact the substation where the bloodhounds were deployed. As a result, the child was rescued and unharmed.
One of Globalstar's service partners, Verizon Wireless, has formed a team called the significant event response team (SERT) to respond to emergency and relief-agencies in the communities Verizon serves. The team provides wireless phones to public safety agencies and local fire and police departments to help them coordinate emergency operations.
Global spectrum
The High Commission for Refugees and the International Committee for the Red Cross (both Geneva-based) are two beneficiaries of free satellite technology services. According to Ellipso's vice president for international and governmental affairs, Gerald Helman, "In 1997, we offered these two organizations free air time on our satellite phones, for their activities in emergency services. For emergency activity, the offer is unconditional."
Ellipso plans to offer Internet, cellular and public telephone systems anywhere on the planet with its global wireless network of satellites that operate in middle Earth orbit (MEO) altitudes.
For the most part, emergency workers use voice and data applications. Data applications include email, fax, some photographs, anything that goes by digital data, notes Helman. While broadband capacity and TV are not part of the picture, "due to the capacity of the system for emergency services, a good amount of information flows from the emergency area to headquarters."
Ellipso donates the time because "we're a global service and the High Commission for Refugees and the International Committee for the Red Cross provide very valuable services. We owe it to the international community to provide those kinds of benefits. Since the spectrum used is allocated global spectrum, we can give something back," says Helman.
It's not about a shortage of bandwidth
Satellite operator PanAmSat donates satellite capacity year long, on a case-by-case basis, notes Mike Antonovitch, PanAmSat's senior vice president of broadcast services. Earlier this year, PanAmSat supported transmissions for the United Nations and to support concerts raising money for AIDs. "With satellite technology capacity, it comes down to urgency. Where do I have the capacity where I can put it to use for someone? And where is there a terrestrial system that can take advantage of the capacity? Internationally, there's a shortage in communications equipment, not bandwidth," says Antonovitch.
And then there are the practical challenges. "Say we have the facility, we bring up the carriers on short notice and get a standard way of establishing the circuits. Take the refugees in Armenia, for example, where are they trying to connect? The refugees have relatives everywhere," says Antonovitch.
Challenges aside, satellite capacity can help in two powerful ways. "Restoring order in countries and connecting extended families, getting families connected, not on a governmental level. This is a higher calling than governmental politics and wherever it's practical, we try to help. Plus, we have a healthy share of Catholic guilt," concludes Antonovitch.
Telecoms sans Frontieres (telecommunications without frontiers) is a French organization, founded in July 1998. Its mission is to drum up capacity and systems to go into difficult places and set up capacity.
Little LEO storm
The Orbcomm communicator is small, lightweight and easily transported or held. The communicator offers certain advantages in emergency situations.
"Little LEOs offer pretty good coverage, good old VHF, low power, they can penetrate forests, and are inexpensive. Designed as a small packet system for bursty messages," says Orbcomm's Glazar.
"The area we've been active in is location and messaging for disaster relief teams, most recently in Florida. In this case, the end user was the state of Florida, with a team taking the Orbcomm device into disaster areas. Our system can coordinate where relief teams are in regards to each other, when you lose communications on the ground," says Glazar.
"This is not a vertical market we typically chase. How can we predict this market? We do have the kind of applications, the Man Down application that has implications for disaster relief. The second largest non-government emergency relief agency, the International Rescue Committee, came to Orbcomm with interest in seeing the Man Down application demonstration, for possible use in how to get supplies to remote areas. Using the Orbcomm satellite communicator, emergency workers could run a "Man Down" application, that could pick up a message from someone down in the field. The Bureau of Indian Affairs and the U.S. Forestry Service are also looking into it," says Glazar.
Orbcomm operates in 133 countries and currently has ground stations either operating in or under construction in 15 locations. By launching another satellite into equatorial orbit, in the first quarter of 2001, we'll have better coverage of the low latitudes," adds Glazar.